About Us
China Royal is a Chinese takeaway in Bognor Regis. Why don't you try our Vegetarian Hot & Spicy Singapore Rice Noodles or Grilled Chicken Peking Style?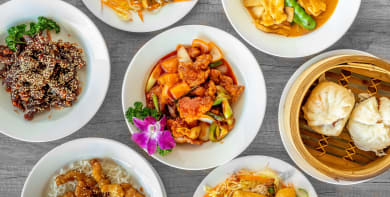 Reviews
417 reviews
Lizi
"Amazing like always! tasty and hot. BEST chinese food in the area"
13/06/2021
Ian
"Good portions, delivered hot and tasty, delivery could of been quicker but was worth the wait..👌"
10/06/2021
Stephen
"Food arrived really quickly, nice and hot. Tasty and just what was needed after a long day."
17/05/2021
Stephen
"Good food and super quick delivery"
14/05/2021
Menu
Hot House Special Hors D'oeuvres
For 2 Persons
Prawn Toast, Satay Chicken, Spare Ribs, Seaweed & Spring Rolls
Satay Chicken (Contains: Nuts)
£10.10
Salt & Chilli Spare Ribs
Hot & Spicy
£6.00
Mussels in Black Bean Sauce
Hot & Spicy
£6.20
Mussels in Hot & Chilli Sauce
Hot & Spicy
£6.20
Salt & Chilli Squid
Hot & Spicy
£5.70
Salt & Chilli Pepper King Prawns (10)
Hot & Spicy
£6.10
Vegetable Spring Rolls (5)
Vegetarian Dishes
£3.70
Mini Spring Rolls (10)
Vegetarian Dishes
£4.00
Fried Crispy Won Ton (10)
Served with sweet & sour sauce
£4.60
Satay Chicken (4) on Skewers
Contains: Nuts
£5.30
Satay King Prawns (3) on Skewers
Contains: Nuts
£5.30
Aromatic Crispy Lamb
Served with pancakes & plum sauce
£8.00
Crispy Seaweed
Vegetarian Dishes
£4.00
Sesame Prawn on Toast (6)
£4.90
Salt & Chilli Pepper Chicken
Hot & Spicy
£5.20
Curry Samosa (10)
Vegetarian Dishes
£3.90
Salt & Chilli Chicken Wings
Hot & Spicy
£5.00
Aromatic Crispy Duck Quarter
Served with spring onions, cucumber, pancakes & hoi sin sauce
£8.60
Aromatic Crispy Duck Half
Served with spring onions, cucumber, pancakes & hoi sin sauce
£15.00
Aromatic Crispy Duck Whole
Served with spring onions, cucumber, pancakes & hoi sin sauce
£26.60
Deep Fried Onion Rings
Vegetarian Dishes
£3.90
Crab Meat & Sweetcorn Soup
£3.10
Hot & Sour Soup
Hot & Spicy
£3.10
Mixed Vegetable Soup
Vegetarian Dishes
£2.70
Fried King Prawn with Green Pepper in Black Bean
Fried King Prawn with Green Pepper in Black Bean Sauce
Hot & Spicy
£6.10
Fried Squid with Green Pepper in Black Bean
Fried Squid with Green Pepper in Black Bean Sauce
Hot & Spicy
£6.10
Stir Fried King Prawn Sichuan Style
Hot & Spicy
£6.10
Hot & Sweet Spicy Kung Po King Prawn
Hot & Spicy
£6.10
Stir Fried King Prawn with Vegetables
£6.10
King Prawn with Ginger & Spring Onions
£6.10
King Prawn with Garlic in Chilli Sauce
Hot & Spicy
£6.10
King Prawn with Cashew Nuts in Yellow Bean Sauce
Contains: Nuts
£6.10
King Prawn with Garlic Butter Sauce
£6.10
Fried King Prawn with Cashew Nuts
Contains: Nuts
£6.10
Sesame King Prawn in Lemon Sauce
£6.10
Fried King Prawn with Mushroom
£6.10
Happy Family
Mixed meat & seafood with vegetables in oyster sauce
£6.50
Wandering Dragon
Mixed seafood in garlic sauce
£6.50
Seafood Platter with Black Bean Sauce
Hot & Spicy
£6.50
Chicken with Green Pepper in Black Bean Sauce
Hot & Spicy
£5.30
Grilled Chicken Beijing Style
£5.30
Chicken Sichuan Style
Hot & Spicy
£5.30
Chicken with Ginger & Spring Onions
£5.30
Chicken with Cashew Nuts
Contains: Nuts
£5.30
Chicken with Chinese Mushroom & Bamboo Shoots
£5.30
Hot & Sweet Spicy Kung Po Chicken
Hot & Spicy
£5.40
Chicken with Cashew Nuts in Yellow Bean Sauce
Contains: Nuts
£5.30
Chicken in Satay Sauce
Contains: Nuts
£5.30
Chicken with Garlic in Chilli Sauce
Hot & Spicy
£5.30
Deep Fried Chicken Thai Style
£5.30
Fried Chicken in Creamy Sauce
£5.30
Fried Beef with Green Pepper in Black Bean Sauce
Hot & Spicy
£5.40
Crispy Shredded Beef with Fresh Chilli
Hot & Spicy
£5.60
Crispy Shredded Beef with Cashew Nuts in Yellow
Crispy Shredded Beef with Cashew Nuts in Yellow Bean Sauce
Contains: Nuts
£5.50
Fried Beef in Satay Sauce
Contains: Nuts
£5.40
Fried Beef with Ginger & Spring Onions
£5.40
Sliced Beef Sichuan Style
Hot & Spicy
£5.40
Sea Spicy Beef
Hot & Spicy
£5.40
Fried Beef in Oyster Sauce
£5.40
Crispy Beef with Sweet-Piquant Sauce
£5.40
Fried Beef with Fresh Tomato
£5.40
Sliced Duck with Pickled Ginger & Pineapple
£5.80
Sliced Duck with Green Pepper in Black Bean
Sliced Duck with Green Pepper in Black Bean Sauce
Hot & Spicy
£5.80
Roast Duck with Monk's Vegetables
£5.80
Sliced Duck with Ginger & Spring Onions
£5.80
Roast Duck Cantonese Style
£5.90
Roast Duck in Orange Sauce
£5.80
Roast Duck with Beansprouts
£5.80
Roast Duck with Mixed Vegetables
£5.80
Roast Duck with Chinese Mushroom & Bamboo Shoots
£5.80
Roast Duck with Cashew Nuts
Contains: Nuts
£5.80
Stir Fried Beansprouts
Vegetarian Dishes
£4.30
Stir Fried Chinese Leaf In Oyster Sauce
Vegetarian Dishes
£4.30
Stir Fried Chinese Leaf With Garlic Sauce
Vegetarian Dishes
£4.30
Stir Fried Mixed Vegetables in Sweet & Sour
Stir Fried Mixed Vegetables in Sweet & Sour Sauce
Vegetarian Dishes
£4.30
Stir Fried Mixed Vegetables
Vegetarian Dishes
£4.30
Stir Fried Mushroom
Vegetarian Dishes
£4.30
Stir Fried Mixed Vegetables in Satay Sauce
Vegetarian Dishes
Contains: Nuts
£4.30
Monk's Vegetables
Vegetarian Dishes
£4.30
Stir Fried Chinese Mushroom & Bamboo Shoots
Vegetarian Dishes
£4.30
Stir Fried Sichuan Vegetables
Hot & Spicy
Vegetarian Dishes
£4.30
Stir Fried Broccoli with Garlic
Vegetarian Dishes
£4.30
Sichuan Vegetarian Duck
Hot & Spicy
Vegetarian Dishes
£4.70
Sweet & Sour Vegetarian Duck
Vegetarian Dishes
£4.70
Vegetarian Crispy Mock Duck (Beancurd)
Served with spring onions, cucumber, pancakes & hoi sin sauce
Vegetarian Dishes
£6.50
Vegetarian Duck with Black Bean Sauce
Hot & Spicy
Vegetarian Dishes
£4.70
House Special Curry
Mixed king prawn, squid, beef, chicken & pork
£6.10
Mixed Vegetable Curry
Vegetarian Dishes
£4.40
Deep Fried Beancurd in Spicy Salt & Chilli
Deep Fried Beancurd in Spicy Salt & Chilli Pepper
Hot & Spicy
Vegetarian Dishes
£4.80
Beancurd with Mixed Vegetables
Vegetarian Dishes
£4.80
Fried Beancurd with Green Pepper in Black Bean
Fried Beancurd with Green Pepper in Black Bean Sauce
Hot & Spicy
Vegetarian Dishes
£4.80
Sweet & Sour Beancurd
Vegetarian Dishes
£4.80
Mushroom Chow Mein
Vegetarian Dishes
£4.80
Plain Chow Mein with Beansprouts
Vegetarian Dishes
£4.20
Mixed Vegetable Chow Mein
Vegetarian Dishes
£4.80
Hot & Spicy Singapore Chow Mein
Hot & Spicy
£5.30
Hot & Spicy Singapore Rice Noodles
Hot & Spicy
£5.30
Vegetarian Hot & Spicy Singapore Rice Noodles
Hot & Spicy
Vegetarian Dishes
£4.90
Young Chow Fried Rice
Without sauce
£5.20
House Special Fried Rice
Mixed meat & vegetables on the top
£5.90
Singapore Fried Rice
Hot & Spicy
£5.30
Egg Fried Rice
Vegetarian Dishes
£3.40
Mixed Vegetable Fried Rice
Vegetarian Dishes
£4.10
Mushroom Fried Rice
Vegetarian Dishes
£4.10
Steam Rice
Vegetarian Dishes
£3.10
Sweet & Sour King Prawn Balls (10)
£6.10
Sweet & Sour King Prawn Hong Kong Style
£6.10
Sweet & Sour Chicken Balls (10)
£5.50
Sweet & Sour Chicken Hong Kong Style
£5.50
Sweet & Sour Pork Hong Kong Style
£5.40
Mushroom Fu Yung
Vegetarian Dishes
£4.60
Salt & Chilli Chips
Hot & Spicy
Vegetarian Dishes
£3.30
Satay Sauce
Contains: Nuts
£2.10
A. For 2 Persons
Fried Seaweed
Sesame Prawn on Toast
Barbecued Spare Ribs
Curry Samosa
Spring Roll
Roast Duck with Monk's Vegetables
Chicken with Garlic in Chilli Sauce
Stir Fried Mixed Vegetables
Egg Fried Rice
£19.50
B. For 2 Persons
Crispy Seaweed
Sesame Prawn on Toast
Barbecued Spare Ribs
Spring Roll
Aromatic Crispy Duck 
(Served with Salad, Pancakes & Hoi Sin Sauce)
Fried Chicken with Cashew Nuts
Monk's Vegetables
Fried King Prawn Sichuan Style
Crispy Beef in Sweet-Piquant Sauce
Special Young Chow Fried Rice
£29.50
C. For One Person
Spring Rolls (8)
Chicken Curry
Steam Rice
£9.50
D. For One Person
Spring Rolls (8)
Sweet & Sour Chicken Hong Kong Style
Egg Fried Rice
£9.80
Contact Us
Find Us
12 Queensway, Bognor Regis, PO211QT